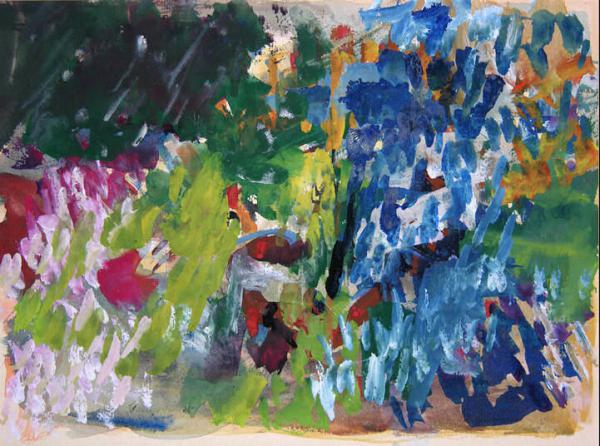 Image © Copyright Estate of Pierre Gauvreau / SODRAC (2015)
 Sans titre
Gouache on paper, 1955
25.4 x 33.6 cm
10 x 13 in
Provenance                                                                                                                                                                                            Private collection, Quebec.
Exhibited                                                                                                                                                                                                Espace 55, Musee des beaux-arts de Montreal, 11 to 28 Feb. 1955.
Sold

Biography
Pierre Gauvreau was born in Montreal in 1922 he entered the Ecole des beaux arts in 1939. His works immediately attracted the attention of the painter Paul-Emile Borduas, who invited him to join a group of intellectuals and artists who met in his studio. From 1943 to 1946, he served in the Canadian Army but continued to paint and show his works. Posted in England, he sent works to his brother Claude in April 1946 for l'exposition de la rue Amherst, a showing considered to be the premiere of the Automatistes group. Along with 15 other members of the group of intellectuals and artists he signed Refus global, a manifesto drawn up by Borduas in 1948. This manifesto which contested among others, Catholic values, unleashed a revolution of artistic creation in Canada. Pierre Gauvreau received the Prix Louis-Philippe-Hebert in 1995 for his pictorial oeuvre, Pierre died in Montreal on April 7 2011.