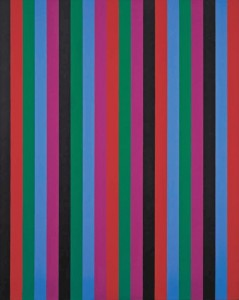 Image © Copyright Succession Guido Molinari/SODRAC (2015)
Mutation sérielle avec bande noir/Serial Mutation with Black Band
Acrylic on canvas
Signed and dated on verso upper left "MOLINARI 6/66"
75 x 60 inches, 152.4 x 190.5 centimeters
Provenance:                                                                                                                                                               John C. Parkin, Toronto                                                                                                                         Jennifer A. C. Parkin, Toronto
Exhibited :
Guido Molinari, Galerie nationale du Canada, Ottawa (Ont.), 2 juill.-6 sept. 1976 (itinéraire : Musée des beaux-arts de Montréal, Montréal (QC), 18 nov.-30 déc. 1976 ;
Art Gallery of Ontario, Toronto (Ont.), 25 mars-23 mai 1977 ; Vancouver Art Gallery, Vancouver (C.-B.), 9 juin-10 juill. 1977). cat. no. 35.
Guido Molinari, Une Rétrospective, Musée d'art Contemporain, Montreal, 1995, cat. no. 40.
Literature:
Pierre Théberge, Guido Molinari, exhibition catalogue, National Gallery of Canada, Ottawa, 1976, page 94, cat. no.35, and listed pages 42-46.
Sandra Grant Marchand, Guido Molinari, Une Rétrospective, exhibition catalogue, Musée d'art Contemporain, Montreal, 1995, page 49, cat. no. 40, reproduced in colour and listed page 71.
Bio: Guido Molinari (October 12, 1933 – February 21, 2004) known for his abstract paintings. Molinari was born in Montreal of Italian heritage with parents from Cune, Tuscany and Naples, Campania. Guido Molinari began painting at age 13, and his existentialist approach to art was formed during a bout with tuberculosis at age 16, during which he read Nietzsche, Sartre, Piaget, and Camus. He studied at the Ecole des beaux-arts de Montreal and the Montreal Museum of Fine Arts.
Guido Molinari practised abstraction in New York, inspired by Barnett Newman, and Jackson Pollock, then returned to Montreal where he produced some of the finest pieces of his career. He married Fernande Saint-Martin in 1958. He won a Guggenheim Fellowship in 1967, was made an Officer of the Order of Canada in 1971, and won the Prix Paul-Emile-Borduas in 1980.
His work is known for its focus on modular and contrasting colours, shapes, and lines. It is exhibited worldwide, including the National Gallery of Canada, the Musee d'art contemporain de Montreal, and the Guggenheim Museum and Museum of Modern Art in New York.
An avid art collector, his extensive private collection includes the work of Mondrian, Matisse, John Cage, Jasper Johns, and Quebec artists John Lyman, and Ozias Leduc.
 Biography courtesy of: http://en.wikipedia.org/wiki/Guido_Molinari